LRWC members defend rights and human rights defenders around the world
 Your membership fees and donations make LRWC's work possible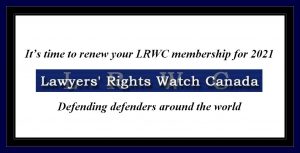 LRWC membership fees allow LRWC to provide pro bono research, education, and advocacy for lawyers and other human rights defenders at risk in many countries in the world. During the COVID-19 pandemic, the need for pro bono work by LRWC volunteers has intensified. LRWC has continued to contribute to the defense of rights and human rights lawyers and defenders throughout 2020, including the lawyers pictured above.
Building knowledge of international human rights
Advocacy
Numerous letters and statements calling for protection of human rights lawyers and defenders. LRWC's focus of in 2020-21 is on the rule of law in China, Turkey, the Philippines, Saudi Arabia and LRWC volunteers also advocate for defenders in many other countries.
More than a dozen statements presented at UN Human Rights Council seeking protection of human rights lawyers and defenders in several countries, including China, Iran, the Philippines, Turkey, South Sudan, Sudan, the United States, and Yemen.
Thank you for defending defenders and the rule of law around the world.